As children grow through their infant and toddler years, physical skills such as learning to walk and jump are not the only skills they are developing. Their brains are also growing rapidly as their cognitive skills develop. One important aspect of cognition is called joint attention, which begins to emerge around the age of 9 months. This is the ability to participate in a shared activity with someone else, respond to their cues, and make good eye contact.   
This skill can sometimes be delayed if the child has a diagnosis such as Autism, developmental delay, prematurity, or a variety of other medical diagnoses. However, it's important that children develop this skill before preschool age because it is a necessary component for developing age appropriate play and peer interactions in addition to skills important for school related activities.
The following are tips to ensure interactions with your toddler are encouraging joint attention and cognitive skill development.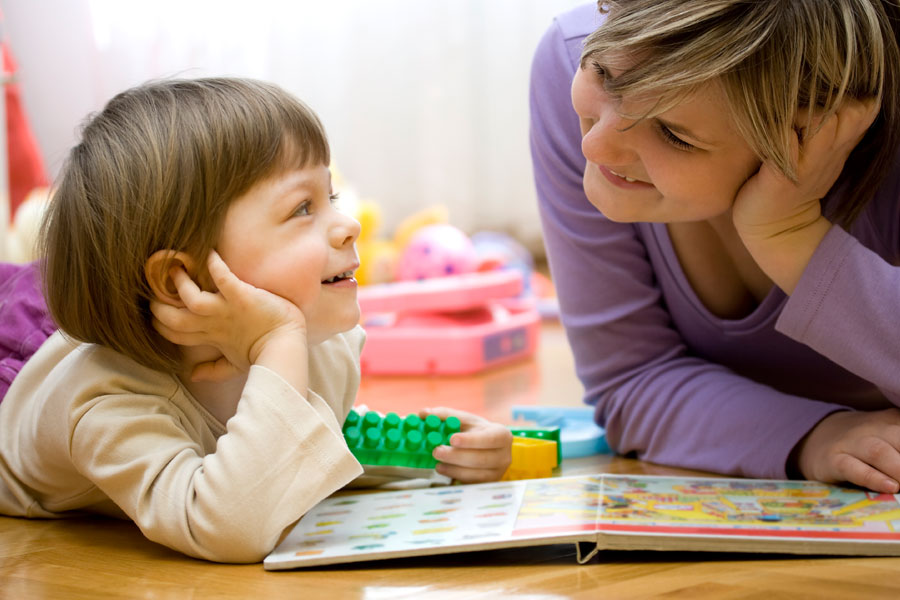 1. Get down on your child's level.  The most important aspect of joint attention is being able to see what your child is doing from his or her perspective and being at eye level to make eye contact. If your child is still very small this may mean lying down on the floor on your stomach or kneeling down. Make sure your face is at the same level as your child's face. The goal is for your child to look at the toy, look back at you for reference, then continue playing. 
2. Make frequent eye contact and respond appropriately when your child initiates eye contact.  If you and your child are looking at a book or toy together, make sure you seek out eye contact when commenting on something. You may have to move your face closer to his or her face or even move so that you are directly in his or her line of sight. If your child looks at you for approval or to indicate a desire, respond by commenting or engaging in the desired action.
3. Imitate your child's actions or sounds. When playing together, you can capture your child's attention by copying how he or she plays. If he says "zoom" when pushing a car, push your car and make the same sound. This will alert your child to the fact that you are attending to the same activity and to them, and it will encourage him to keep playing with you so that he gets to hear you make the sound again. The imitation can become a game in and of itself.
4. Point and use gestures frequently.  This may come naturally, but make sure you are pointing to what you want your child to look at with you. If you are reading a book together, point to the word you are reading or the picture you are looking at. If your child is pointing to something, make sure you look that direction and comment on what he or she is showing you. Other gestures could include holding up a toy for your child to see or waving at something approaching that you want your child to notice. 
5. Take turns with your child. Taking turns develops not only joint attention skills, but also other socialization skills necessary for conversing and playing organized games. Taking turns can be as simple as passing a ball back and forth or alternating who gets to send a car down a ramp. Match the activity to your child's age level and keep your child engaged by stating and gesturing when it is his or her turn.
6. Follow your child's lead.         The best way to make sure your child is engaged in an activity is to let her pick what and how to play. Try not to ask too many questions or give too many commands. Wait and observe what your child is doing then play how she is playing. 
7. Keep your words simple.   Giving too many complicated commands or asking long questions can confuse your child and stop the natural rhythm of the play encounter. Keep phrases short and directly related to what your child is doing. You want your child to notice what you said, look at you, then immediately return to playing. Avoiding complex sentences can help avoid frustration at not being able to understand what you want.
Have questions or concerns about your child's joint attention. Feel free to call us at (703) 879-2479.
Written by Christine Laporte, MOT, OTR/L